Photo courtesy of Pixabay
The Real Deal (TRD) captured attention this week having released its inaugural ranking of New York City's top general contractors. TRD's list is intriguing for many reasons. For one, TRD is notable for its comprehensive information regarding construction and real estate activities. Two, the city is exploding with construction and real estate development activity. And three, there are many firms playing big roles in the action.
Before we get to the rankings, let's look at some of data behind the list. Just recently, the New York Building Congress outlined construction starts in the city reached $32.2B in 2016. While this represents a 22% decrease from 2015, it exceeded the previous five-year average by almost 34%. The drop in residential construction accounted for much of the decline. While leaping to $19.5B in 2015, this sector only accounted for $11.5B last year. Luckily, the non-residential market is still humming along and is a major source of spending and jobs, with office construction leading the way. In fact, the top three project starts in 2016 by value were in office construction and included: 3 Hudson Boulevard, One Vanderbilt in Manhattan, and Tishman Speyer's office project in Long Island City, Queens.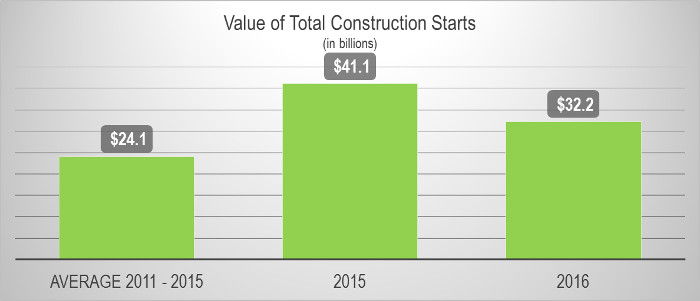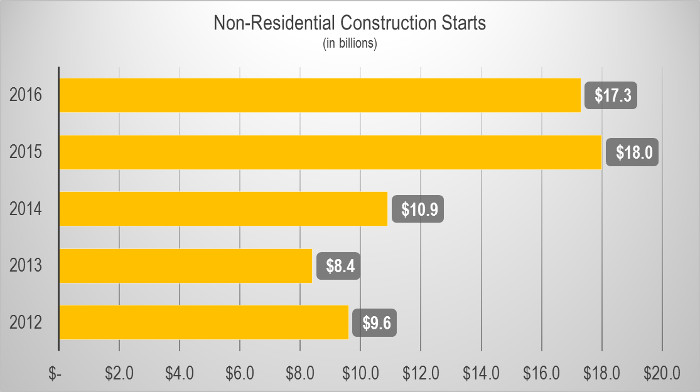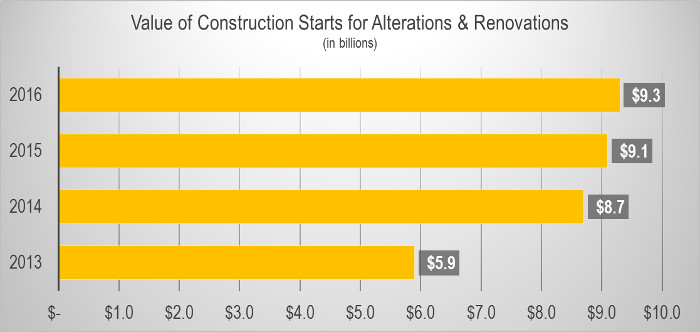 Alterations and renovations are contributing to activity
TRD was astute in looking at both ground-up construction, and alterations and renovations since the latter is a major contributor to ongoing activity. According to Dodge Data & Analytics, the NYC Department of Buildings issued 5,641 permits in 2016 for a combined value $9.3B for alterations and renovations, making it the third consecutive year that building permits for work on existing buildings rose. The primary driver in this sector is the commercial market, accounting for 46% of all permits by value in 2016, with office construction playing the lead role. Institutional projects came in second, accounting for 35% of all permits by value last year.
Let's take a look at the top players supporting these numbers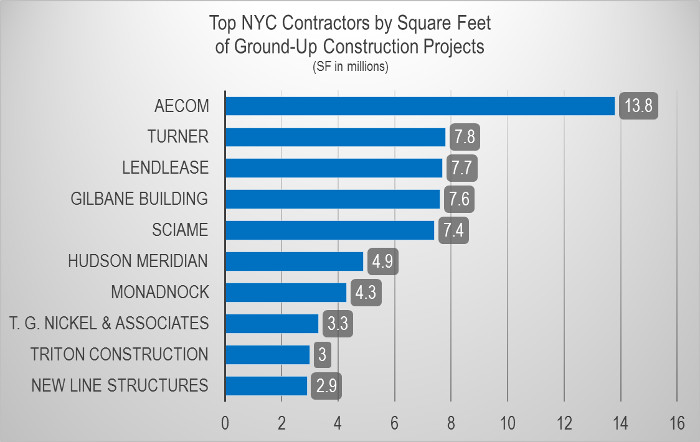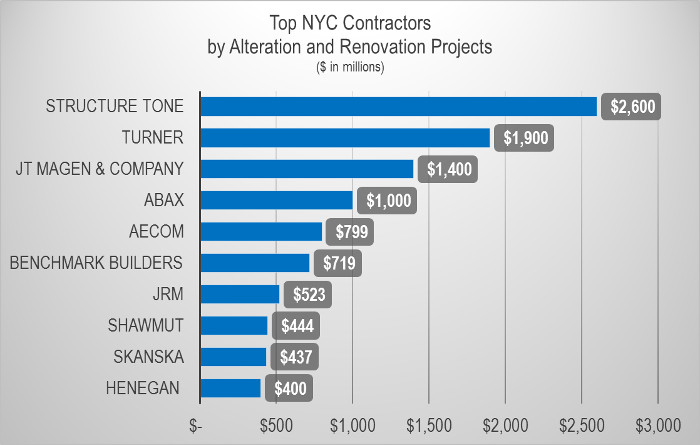 Companies are being proactive in mitigating potential challenges by utilizing diverse strategies
While all of this data portrays positive news for the city's design and construction industry, we can't ignore the potential challenges that may be coming. Fortunately, it seems that many companies have foresight and are preparing appropriately. An example of one such challenge is President Trump's infrastructure plan that proposed $1 Trillion being pumped into projects. Concerned about the worsening labor shortage, some firms are acquiring subcontractors to ensure they win bids and can fulfill projects. Another example is more real estate developers are assuming their own construction work. After all, profitability is directly linked to costs. Related Companies is a prime example of this strategy. Known for Hudson Yards, the biggest commercial development in the U.S., Related began assuming its own construction work years ago so that it was not captive to other firms' schedules and costs. Many more companies are now following suit. Others are also utilizing non-union labor, a strategy that is being increasingly leveraged by a variety of firms and projects.
AECOM, the city's most significant player by far, has initiated many strategies to remain at the top - one such concept being acquisitions. Its 2010 purchase of Tishman Construction is obviously paying off as Tishman is one of the city's top builders. AECOM opened itself up to the sports facilities sector by acquiring Hunt Construction Group in 2014. Just last month, the giant announced it was breaking into the federal government market by creating a division dedicated only to those projects.
These firms aren't the only ones adapting to the ever-changing environment. As the industry becomes increasing complicated with the shortage of talent, expanding regulations, and advanced technologies, organizations of all sizes are striving to be innovative and adaptable to stay ahead of the market's dynamics - and only those that are willing to make those efforts and asssume the associated risks will survive.