If you're involved in construction or real estate within the industrial sector, you're well aware of the robust activity in this market. According to Colliers International's Q4 U.S. Industrial Market Outlook, 2016 was the second consecutive year that industrial real estate activity broke records, and this trend is expected to continue through 2018.
In 2016,
224.6M square feet was delivered.

In Q4, activity was up 29% from the previous quarter, vacancies were only 5.6%, and 38M square feet was under construction.
So far in 2017,
New groundbreakings are up 22% from Q4.

Vacancy rates reached 5.3% in Q1 - the lowest in years.

Construction firms will deliver 247M square feet of new industrial space this year - the highest in 10 years, according to JLL.

Dallas, Inland Empire, Philadelphia, Denver, and Atlanta account for 54% of new developments.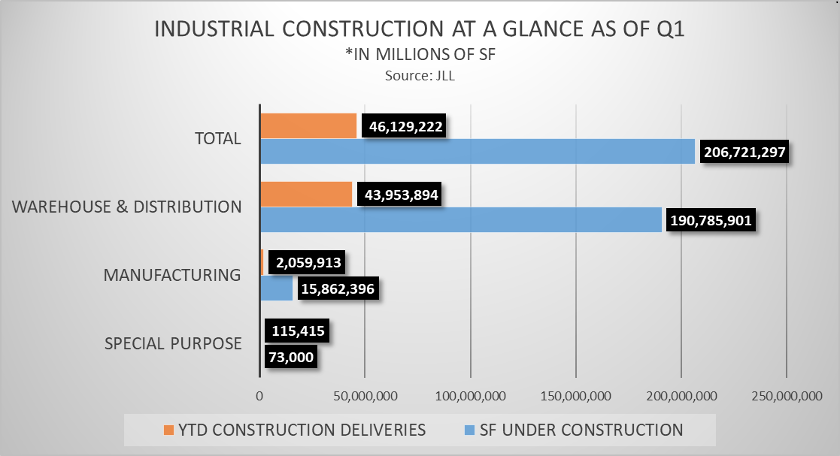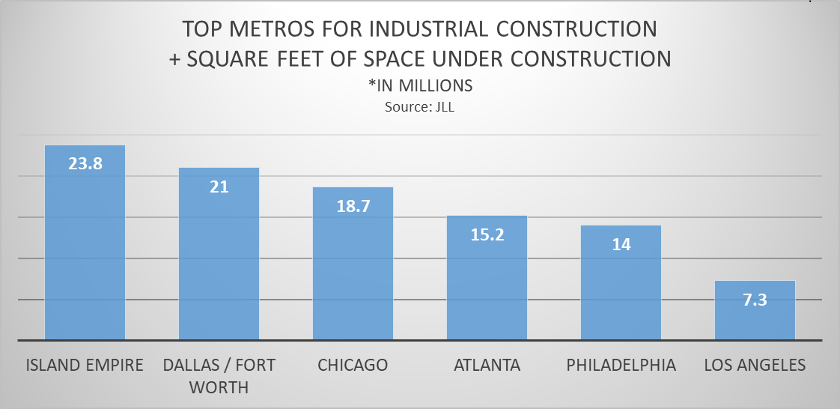 It's not surprising that a 2017 Urban Land Institute (ULI) study found that industrial was the best opportunity for investment and development, stating that the industry's advantages include strong demand, restrained construction, and low perceived risk.
What are the factors contributing to this surge in the industrial market?
In Q4, E-commerce sales grew 14% compared with Q4 2015. They currently represent 8.4% of all retail sales. In the last seven years, large E-commerce companies have constructed 141.2M square feet of industrial space.
Industrial REITs (there are only 11 of them) are investing heavily in the data center market and have been doing so over the past five years, focusing on key metros, and now proactively moving on to secondary markets.
Major metropolitan areas that were flocked to are becoming overloaded. Therefore, many corporations and REITs are going to secondary markets with attractive locations, such as Kansas City, Greenville/Spartanburg, and Lehigh Valley. Other markets on the radar according to JLL are: Boston, Fort Lauderdale, Central Valley, Columbus, Detroit, Long Island, Memphis, North Bay, Orlando, and Pittsburgh.
Manufacturing and technology firms are looking to develop flexible research and development space to offset costs.
Along with the robust activity, the design of industrial facilities is being enhanced with customers asking for innovation, and utilization of the latest technologies, including:
Multi-story, vertical structures.

Ability to accommodate autonomous vehicles, drone docks, and microgrids.

3-D printing capabilities utilized for construction where appropriate.
Who are the major players in the market?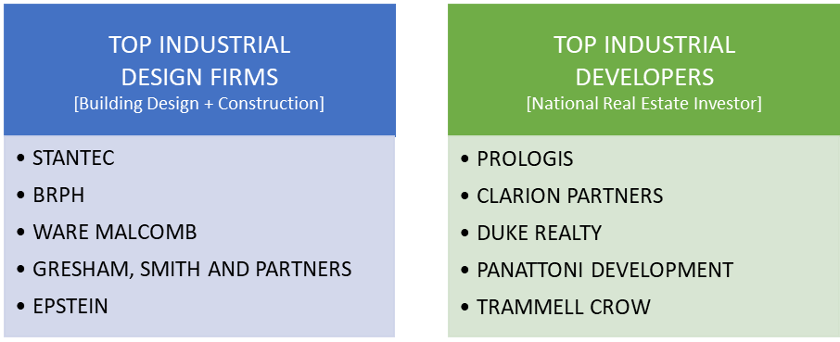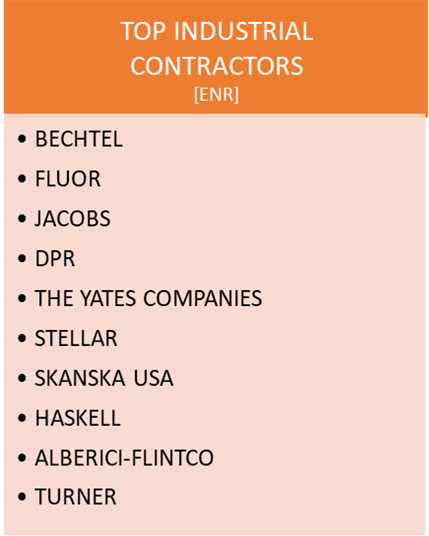 Earlier this week, Globe Street reported U.S. industrial construction is expected to continue at a historic level with the market adding almost 1B square feet of space to its inventory by 2018. Needless to say, this is an interesting sector for all of us involved in construction and real estate development to keep a pulse on.
Sources: CBRE, Engineering News-Record, National Real Estate Investor