Last week, FMI released its U.S. Markets Construction Overview 2017, which reflected the overall feeling in the engineering and construction (E&C) industry – cautious optimism. While FMI's outlook is positive for 2017, it made sure to advise companies to not go overboard in chasing projects outside of their core markets and abilities. There are still many unknowns ahead. FMI says it's best for most firms to invest their time in strengthening current markets. Within its report, the management consulting firm reminds all of us that E&C companies can get into trouble when they overestimate their resources, and take on too much work and/or projects outside of their primary areas of expertise.
Before we look at what FMI expects for 2017, let's consider where the E&C industry is now:
• GDP is up
• Unemployment remains low
• Industry wages are up
• Prices of oil and gas are rising
• Consumer confidence is high
• Interest rates are increasing
• Private sector investment is positive
Along with these positive signals is the potential for significant infrastructure plans and public-private partnerships to fund them. If companies want to take advantage of these and other opportunities to enter new markets, FMI suggests establishing partnerships and joint ventures or considering mergers and acquisitions. Furthermore, the E&C sector is garnering much interest from overseas. According to FMI, there are numerous large E&C companies abroad that are challenged by their own stagant economies and are looking to play a role in the North American infrastructure market by partnering with or merging/acquiring domestic companies.
Other trends that are impacting the E&C industry are smart buildings, advanced technologies, and progressive construction methods such as prefabrication and modular building. FMI suggests that companies make sure they adopt these concepts and integrate them into their operations and strategies because they will continue to be in high demand by owners well into the future.
The following charts illustrate FMI's outlook for the top markets of 2017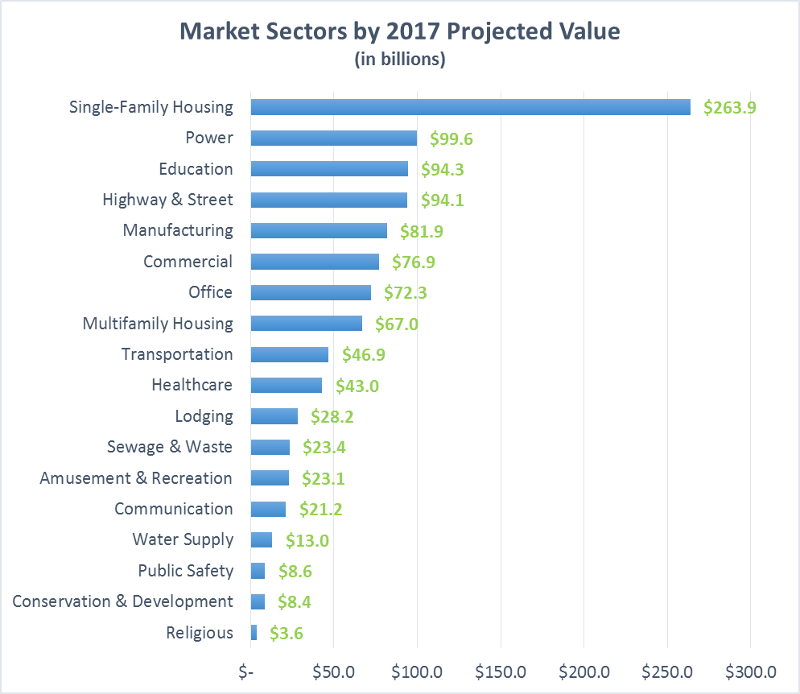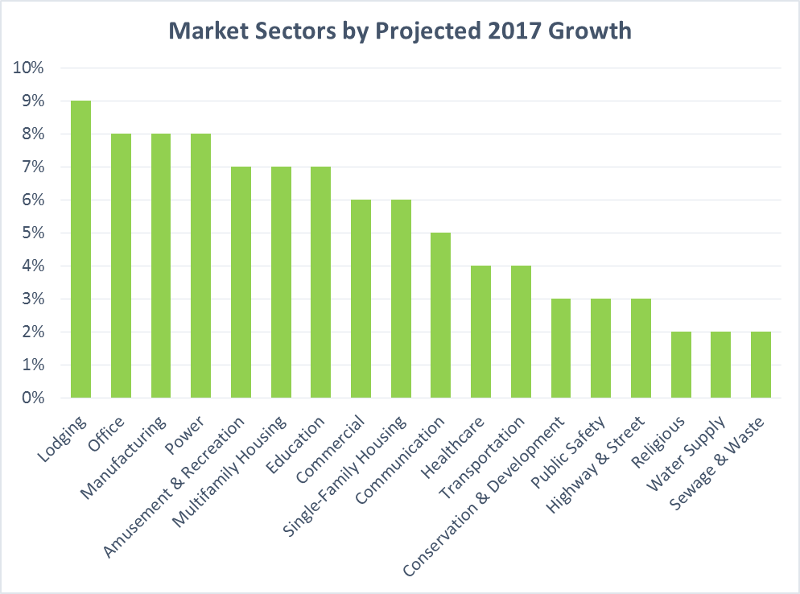 How FMI forecasts individual construction markets in 2017 and the factors that will impact them:
Residential Construction
6% growth in single-family to $263.9B
7% growth in multifamily to $67B
Trends in affordability and smaller homes
Lodging
30% growth in 2015 turned into 19% in 2016
This year, FMI is expecting 9% growth to $28.2B
Supply is surpassing absorption
New competition such as Airbnb is impacting the market
Office
8% growth to $72.3B
Increase in high-tech employment
Office sharing, telecommuting, and cloud usage playing a role
Strong focus on security, especially in large buildings
Commercial
Growth will slow to 6% ($76.9B) with an expected drop to 3% by 2020
Customer buying habits are drastically changing with more online shopping, especially from smartphones
Fast-growing subsectors are food and drinking venues, building materials, and garden supply centers
Healthcare
With $41.4B in construction put in place for 2016, FMI predicts 4% growth to $43B
Many planned large hospital projects are turning into smaller ones
Most projects will entail renovations, additions, and outpatient care
Focus on patient-centered environments and mitigating the risk of supergerms
Changes in government healthcare policies remain unknown
Utilization of advanced technologies and security methods are major challenges
Education
7% growth to $94.3B
Expanding population, and safety and health concerns contributing to growth
Higher education is competing with online/distance learning
Institutions focusing on design trends such as flexible space, modular buildings, and the use of green building technologies
Amusement & Recreation
2016 showed strong growth of 9%
2017 growth projected to be 7% to $23.1B
Multiple large stadium projects underway
Transportation
While down 1% in 2016, transportation is expected to grow 4% to $46.9B
Panama Canal expansion accommodates increased activity, especially from petrochemical manufacturing plants
FAST Act prompting transportation infrastructure construction
Communication
Dropping 2% in 2016, expected to grow 5% to $21.2B
Increase in integration and mergers within market as competition strengthens
Need for more data centers as data storage demands rise
Companies are increasingly concerned about data security and privacy measures
Infrastructure is continually challenged by technology
"Mini towers" will multiply for increased coverage
Manufacturing
While this outlook could change depending on the new presidential administration, growth is projected at 8% to $81.9B
Capacity has addressed utilization sufficiently
Rising energy prices may prompt capacity additions for oil and gas
Power
Growing 6% in 2016, another year of 8% growth to $99.6B is projected
Tradition power plants need upgrades
New electrical capacity being fueled by solar and wind facilities
Keystone XL pipeline will increase construction
Growth is expected through 2020
2017 will definitely be another interesting year for the E&C industry. There are many changes taking place and it seems they are happening more quickly than in prior years. Companies have to constantly strive to keep up with the competition and activity within their markets or they can rapidly fall behind.
Contact FMI to receive its full U.S. Markets Construction Overview 2017, which includes much more of the company's perspective of the E&C market.