Engineering News-Record (ENR) released its Top 600 Specialty Contractors rankings just this week. For most of us, this insight wasn't too shocking as the specialty construction market has been riding high for the last eight years. The market saw a 12% rise in revenue in 2016 coming in at $112.72B, its biggest jump since 2012.
Also, not surprising were the top 10 firms, aside from the fact that Rosendin Electric climbed from 11 to 6 this year. The top 10 players in this market rarely change - they simply shift, with Quanta on top.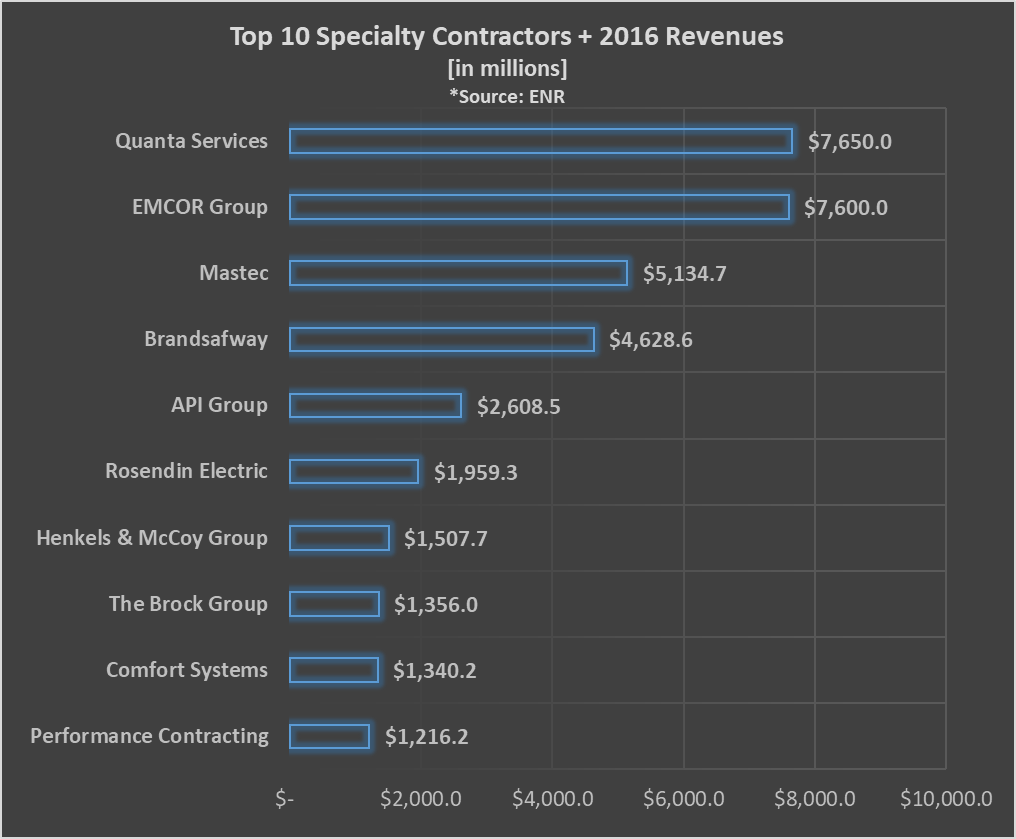 Notable significant leaps this past year were:
Capform - 110 to 59
Mechanical Inc. - 115 to 65
J. F. Ahern - 85 to 67
Crown Corr - 174 to 105
There is an overall optimism in the sector with increasing backlogs, and robust activity in almost every market from healthcare and manufacturing to commercial and transportation. Some firms are pursuing projects that are specifically within their core abilities while others are strategically acquiring other companies to expand their markets and capabilities. But, all firms are dealing with similar trends and issues penetrating the sector, including:
Mergers and acquisitions

Building and sustaining a collaborative environment

Mitigating risk

Dealing with staff shortages
As executive search consultants specializing in construction, these are buzzwords we hear every day from our clients. Every construction firm is dealing with them, whether they're a specialty contractor or otherwise. Managing Director Jim Lord, says, "In response to these issues, we see three main themes going on in the industry - firms are taking advantage of market opportunities, empowering human resources, and paying close attention to recruitment and talent management."
Lord and Senior Managing Consultants Tom Dunn and Ryan Pugh provide their insight:
"As an example," Lord says, "I have a client that is involved in utility construction. Over the past year, we've conducted four assignments for them, three of them being senior-level mainly due to the company seeing tremendous opportunities in the market to grow. They are using "specialization" as one of their growth strategies – but in a different way than most. They initiated strategic acquisitions of other specialized firms so that they could build their company to offer a variety of highly specialized services all under one roof. They can now complete entire projects that have very specialized components to them, giving them an edge in a highly competitive marketplace."
Mergers and acquisitions are projected to accelerate within the specialty contracting market. "As everyone knows, acquisitions can be tricky when it comes to merging two companies with distinct internal cultures," Lord explains. During the transition process, a company can lose money, productivity, employees, and experience a host of other issues. Our client was well aware of this and wanted to take a proactive approach in an effort to mitigate challenges as best they could. They retained us to conduct a search for a new leader who would focus on corporate human resources. This individual is playing the lead role in integrating their multiple companies and implementing strategic HR initiatives. In addition to this, the company is creating other leadership positions to bridge the gap between siloed business units and companies to increase collaboration and cohesiveness."
Senior Managing Consultant Ryan Pugh, who conducted this HR search assignment says, "Our client wanted to ensure that all the pieces were in place for mergers and acquisitions to progress smoothly, which prompted them to secure a new Director of Human Resources. The individual is tasked with ensuring that succession planning, organizational development, talent management, compensation and benefits, and HR policies and procedures are executed efficiently and accurately. The Director guides the company in utilizing best practice thinking and incorporates processes across all subsidiary companies, all of which have been critical building blocks from a strategic standpoint to help them to capitalize on their markets."
Tom Dunn, Senior Managing Consultant, has partnered extensively with a mid-sized contractor in the Mid-Atlantic region, which is also experiencing tremendous growth. He says, "The company primarily focuses on the general building markets, but they are looking to continue expanding their business into the industrial markets as well. They see a major opportunity to continue expanding their design/build and service businesses based upon what they're hearing from their customers."
"The company also has an aggressive three- to four-year strategy for growth by diversifying its business lines and possibly extending its geographical reach," Dunn elaborates. "In the midst of this push, they are going through internal changes to become more client-centric and determining ways to utilize technology to support their growth. Of course, they are also deeply concerned about the next generation of talent, which is a key factor in how they're going to achieve their goals and sustain their growth. Without the internal foundation to support their increasing pipeline of projects, all of their key objectives will be short-lived. This includes lower-level roles - they are aggressively recruiting on college campuses and creating an internship program to bolster the effort."
Dunn says, "To Jim's point about talent management, my client hired their first talent acquisition manager who focuses solely on supporting internal hiring initiatives and to be a champion for their new internal culture. The firm realized that they needed a concerted and dedicated effort, particularly in attracting new college graduates so they have empowered the new manager to lead that effort."
These are just a few examples of what we are seeing in the specialty contracting market. Firms aren't just chasing projects; they're paying attention to everything from technology and net profits to their internal talent and efficiency. They're all looking to operate on all cylinders - and that's a great thing.
View ENR's full article and rankings.